IT Sales And Marketing Boot Camp
What Is The Annual IT Sales And Marketing Boot Camp?
Over 1,100 of the most successful, fastest-growing IT business owners in the world will fly to Nashville, and will be streamed LIVE via our virtual platform, Big Red Virtual, to invest four days into learning how to become better marketers, grow their business, acquire more clients and substantially increase their bottom line. These decision makers are highly motivated to increase sales. Unlike other IT conferences, where all of the speakers are technicians, this conference features only business topics focused on helping our clients increase their personal wealth and business success.
Where Is This Event Held?
Our Annual IT Sales And Marketing Boot Camp is held in Nashville Tennessee. Full details for this event can be found at www.BigRedMedia.com/BootCamp.
Who Should Sponsor This Event?
Vendors who want to get in front of HUNDREDS of quality prospects! We regularly entertain over 1,000 attendees in person and 2,000+ online watching in virtually. That's a REAL number of prospects, not an inflated number made up of other sponsors, our staff and non-prospects.
Companies who want to engage with BETTER quality MSP and IT business owners who KNOW how to market and sell. Unlike the vast majority, who are whiners and complainers, our clients actually have invested a lot of time and effort into growing their business.
Want To
Sponsor
The IT Sales And Marketing Boot Camp?
Subscribe Now And Never Miss An Issue Of IT Channel Insider
"People were saying Boot Camp was the best event they've EVER been to."
Fred Voccola, Kaseya
"Every Time We Sponsor Robin's Events, We Walk Away With Having Driven More Revenue Than The Expense Of Being There"
Al Alper, CyberGuard360
"This Is One Of Our Most Successful Events"
Marc Haskelson,
Compliancy Group
What Is Producers Club?​
Producers Club is a C-level peer group of our most marketing-savvy and successful MSPs and IT services clients. With over 270 active members, it's the IT industry's largest C-level peer group. Our members meet quarterly in 2 day events that are focused on business growth, marketing, sales, leadership, hiring and business development. Sponsors tell us repeatedly that Producers Club events are the MOST lucrative and productive events they sponsor.
Who Attends?
Producers Club members are, without a doubt, our most ambitious members. They are the CEO/owner of an IT services firm (MSP, MSSP, VAR, solution provider or systems integrator) and often attend these events with their business partner and sales and marketing leadership team. That makes this group a VERY lucrative audience for our sponsors because they are decision makers with true entrepreneurial ambition, focused on growth, marketing and improving every aspect of their service delivery and customer service. Because they invest $20,000 to $30,000 annually to be a member, they clearly will spend money on marketing, learning and organizational excellence, and are constantly looking for new products, new services and new vendors who can help them with that growth.
Where Are These Events Held?
Our 2023 events will be held in San Diego, CA for our January meeting, and Franklin, TN for our July and October meetings. Please contact our Strategic Alliances team for more details and to find out how you can sponsor this event at [email protected].
Want To
Sponsor
The Producers Club?
Rapid Implementation Workshop
What Is The Rapid Implementation Workshop?
Our Rapid Implementation Workshops are intense, highly productive two-day seminars where Robin and her top consultants work with a small group of CEOs (25-50) on implementing a more productive, strategic marketing plan for their IT services business. Topics covered include selecting a lucrative target market, developing a USP (unique selling proposition), lead generation, website and online marketing, and client reviews, e-mail marketing, cross-sell strategies, marketing planning and much, much more.
Who Attends?
A small, exclusive group of IT services CEOs committed to and focused on rapid implementation of marketing in their IT services business. With a $4,997 price tag to attend this workshop, the attendees are serious about implementing sales and marketing in their companies and have the money committed to ensure full implementation. This class is made up of companies from start-ups to $20 million in annual revenues. The #1 commonality is a commitment to growth.
Why Sponsor The Rapid Implementation Workshop?
Companies that want to get focused access to a group of MSPs and IT services CEOs who are serious about rapidly growing their IT services business and are looking for products, services and solutions to make that happen. With very limited sponsorship opportunities in this small classroom setting, you are guaranteed to stand out in this crowd. Previous sponsors of the Rapid Implementation Workshop have stated that their best ROI has always been from these small workshops.
Cyber Security Marketing Roadshow
What Is The Cyber Security Marketing Roadshow?
This is a 2-day workshop delivered in six major metropolitan cities across the US in the fall time frame (September to November). This years Roadshow is extremely content-rich and will reveal Robin's blueprint on cyber security marketing, sales processes and business development.
Who Attends?
This event attracts 750-850 MSPs, MSSPs and IT services CEOs and leaders. Additionally, the virtual show attracts over 1,000 attendees. The majority of attendees are the CEO/owners of the business, who are eager to learn how to add strategic, results-based digital marketing strategies to their marketing programs. Our title sponsors are also permitted and encouraged to invite THEIR clients and prospects as VIP guests at a reduced rate, to make the event an excellent means of getting face-to-face with their clients and prospects as well.
Want To
Sponsor
Cyber Security Marketing Roadshow?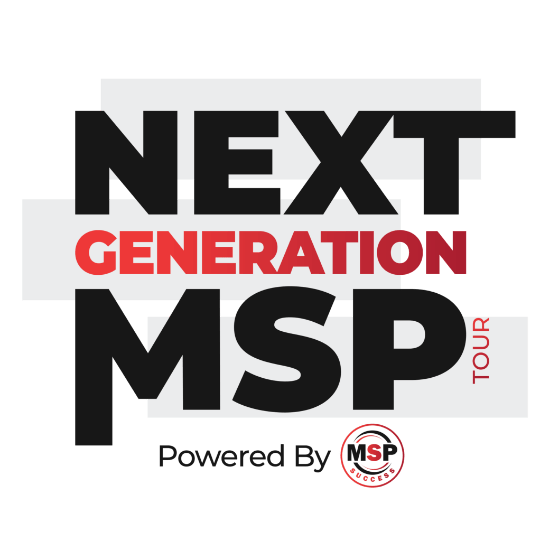 What Is The Next Generation MSP Tour?
In partnership with MSP Success Magazine, we're heading out on the road for a 10-city tour this year. These 1½-day events specifically developed for both growing and well-established MSPs are focused on the development of a "success blueprint" for the best-in-class MSP. Based on years of industry research and a lineup of well-respected leaders within the MSP and small business success communities, these workshops will be highly interactive, attracting growth-focused MSPs looking to improve their businesses.
We anticipate between 75 and 100 MSP attendees per city and are making available limited speaking and exhibitor opportunities for key sponsor partners looking to join us for the entirety of this tour. As a sponsor at these events, you'll gain unfettered access to 750+ MSPs from coast to coast over the 10-city tour.
Want To
Sponsor
The Next Gen MSP Tour?
What Are The Quarterly Virtual Events?
Every quarter, we are hosting at least one live virtual conference on our proprietary Big Red Virtual event platform. Past events have included our 2020 and 2021 Cyber Security Livecasts (with nearly 2,000 attendees per event), the 2021 MSP Demo Day event, the Virtual Digital Marketing Roadshow, our virtual Boot Camp and more.
These events include speaking opportunities, a live interactive exhibitor booth experience, opportunities for lead generation guarantees and opportunities to obtain the entire registration list as a cohost of the event.
These one- to two-day virtual events are promoted out to our entire database of clients and prospects and are very well attended.
Download Our Partner Book And Media Guide To Discover How To Get More High Quality Partners